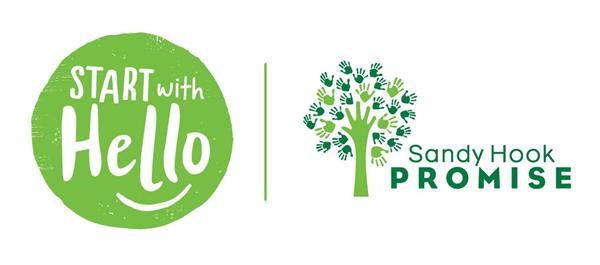 At PARK MIDDLE SCHOOL, we...

Start With Hello!

Part of the Sandy Hook Promise

Say hello! Give a compliment! Do a random act of kindness!

We're all in this together!

The Week of September 23rd- 27th

Monday: World Hello day! Wear something to represent your background! Learn how to say Hello in other languages.

Tuesday: Mix match patterns day! Show that uniqueness goes! Compliment day! Give a compliment to a classmate or peer!

Wednesday: Pajama day! We're putting the bullies to BED! Please bring in NEW stuffed animal to donate to first responders and children who need a little extra TLC. No one eats alone! Invite a student or someone who may not have a group to sit with you at lunch!

Thursday: Wear your favorite sports team jersey to show unity and that we are all a team! Random acts of kindness-show people you care with actions or words, something as little as holding the door for someone can make them smile!

Friday: Wear green to symbolize your support in the Sandy Hook Initiative. Encouragement day! Help spread positivity by leaving a nice note on someone's locker.

We're all in this together!
Terrill Middle School Starts With Hello!

Once again to support a nurturing and caring environment, Terrill will implement the Start With Hello Program --a youth violence prevention program from the Sandy Hook Promise Organization. As such, during the week of Monday, September 23, 2019 students in each grade level will participate in lessons that promote kindness, peer outreach and compassion. Grade 5 students, will focus on ways to connect to with others who need it most; grade 6 students will focus on how a simple hello can have positive, social ripple effects; grade 7 students will explore ways to empower themselves to help create inclusive communities; and, grade 8 students will use their experience to create their own "Start With Hello" lesson. What a great way to make learning meaningful!

Grade 5--"5 Ways to Connect" lesson--with homeroom teacher.
Grade 6-- Concentric Circles Activity--with PE/health teacher during PE/health.

Grade 7--"Why I Start With Hello" lesson--with world language teacher during world language period.

And...... Terrill's personal addition to the program.....
Grade 8--"Create Your Own 'Start With Hello'" activity with social studies teacher during social studies class.