We are requiring all families to report COVID positive cases or close contact
to a COVID positive individual using the:
STUDENT COVID REPORTING FORM

If you are a SPFSD Staff member reporting a COVID positive case or close contact to a COVID positive individual, please use the Human Resources Reporting form.
Morning Announcements
Tuesday, January 25th

Today is an A Day

"I believe in freedom of speech, but I also believe that we have an obligation to condemn speech that is racist, bigoted, anti-Semitic or hateful." -by John Lewis. BSU will meet today after school in room 223. All are welcome!

There will be a SAGA meeting in the Upstairs Media Center Wednesday after school.

There will be a virtual interest meeting for Boys Volleyball on Wednesday, at 3:00 PM. The Class Code can be found on the fliers posted in your homeroom or found outside of room 137. Please see Mr. Ritter with any questions.

FBLA is hosting a "stories for success" book drive to help provide new or used books to our local union county children's shelter. Info can be found on our instagram page. To donate, simply bring your books to your English teacher's class for drop off in the book bin, to the main office bin, attendance office bin, or media center bin. Make sure to leave your name on a sticky note so we know who to thank AND for your chance to be entered into a prize giveaway!"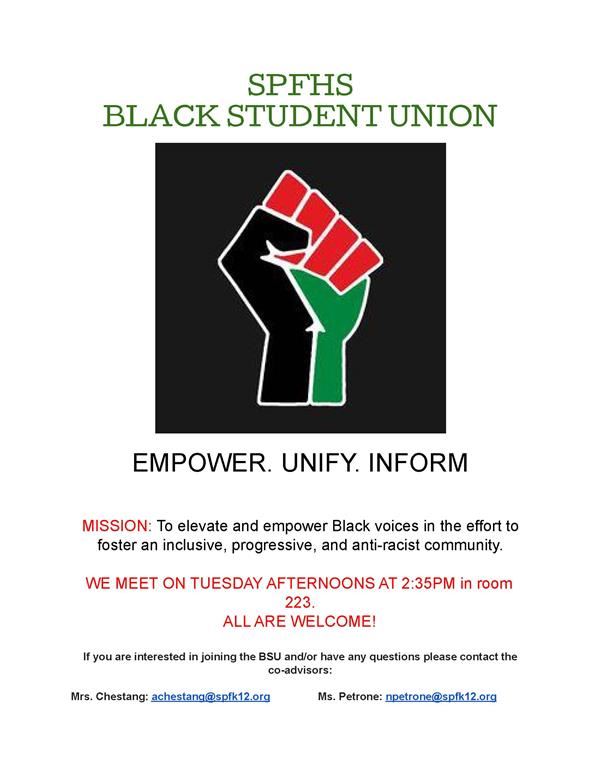 Announcements
Working Papers
Schedule: 8am - 3pm
Available in High School
Main Office

Form to Complete: A300 Form for Working Papers


Students must have promise of a job before working papers are completed.
Please click the following link for further instructions and to obtain the 'Employment Certification Form':

NJ Department of Labor Site for Working Papers
Once the required information is completed on the form, SPFHS will be able to continue the process.

At SPFHS:
You will be required to wear a mask and practice the required social distancing.
District Anti-Bullying Coordinator

Lakendra McFadden
Brunner Elementary School
721 Westfield Road
Scotch Plains, NJ 07076
(908) 889- 2148 x31532