🦋🌷Welcome to the Brunner PTA 🌷🦋

Happy Spring Brunner Families!

As we are full into our 2021-2022 school year, things may, or may not, be different. Our PTA events and activities will be planned and adapted as necessary! What does not change, is that all of these programs (and more not mentioned) are supported by the generosity of PTA memberships and fundraisers, and are made possible by our VOLUNTEERS!

Join the PTA today, and consider being a volunteer! A great way to volunteer is to chair or just join a committee. There are plenty of ways for working and stay-at-home parents to contribute to the Brunner community.

Sharon Dowling, PTA President

2021 - 2022

Brunner PTA Executive Board

Sharon Dowling - President

sharondowlingpta@gmail.com

Jennie Darrow - 1st Vice President

jenniedarrowpta@gmail.com

Megan Rozycki - 2nd Vice President

merozycki@gmail.com

Melissa Tuscano - Treasurer

Brunnertreasurer@gmail.com

Andrea Piccininni - Corresponding Secretary

Elaine Dion - Recording Secretary
📝 Sign Up for the Brunner PTA Today!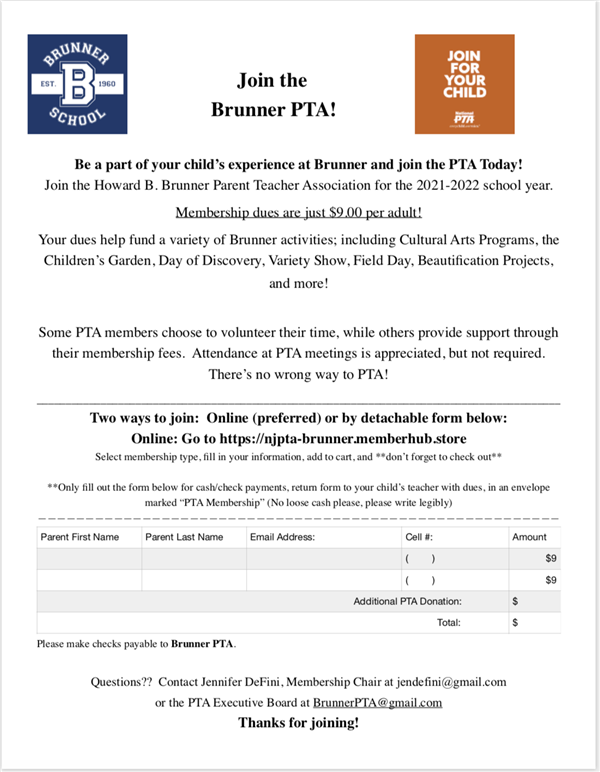 🎒

Brunner Backpack

Weekly E-Newsletter

🎒

Sign-up for the Backpack mailing list to stay up-to date with important school news and information throughout the year.

Click here to sign up!

If you have any questions, or are interested in volunteering in the production of the Backpack, please email us, Brunnerbackpack@gmail.com.
2021 - 2022 PTA Meeting Schedule

May 12, 2022 - 7:00 pm

Jun. 6, 2022 - TBD pm

Jun. 14, 2022 - TBD pm